Why choose us?
Specialist Cleans
ISO 18001
Total Quality Management
Dedicated Cleaning Contractors
UK Wide Locations
Commercial, Industrial Sectors Covered & more...
Daily Office Cleaning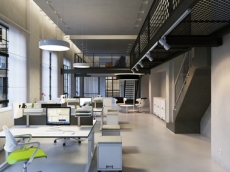 The Cleaning Services Group has over 15 years office cleaning experience cleaning for national and multinational companies, as well as for the smaller independents.
Providing a clean office environment is a key component to a modern, effective organisation. Cleanliness is of paramount importance to a company's brand persona and client perception. It also has a major role to play for employee health and well-being and can directly influence productivity through the prevention of absences from work.
Did you know?...
60% of absences from work illnesses are contracted from dirty equipment in the office, such as Ecoli, Staph and bacteria. With 65% of office workers sharing phones and computers, and with a whopping 25,127 germs per square inch found on just a telephone, employers need to take cleanliness seriously.
Our Office Cleaning Services Include:
Cleaning bathrooms, sinks, toilets, urinals
Emptying and sanitising rubbish and recycling bins
Supply and restock washroom consumables
Window cleaning
Ventilation cleaning
Cleaning office equipment and work stations
Dusting furniture and computer equipment
Cleaning stainless steel and other special surfaces
Floor cleaning, mopping, sweeping, refinishing and polishing
Stripping and waxing floors using floor buffer
Carpet cleaning (dry method,extraction, steam and bonnet)
Cleaning (vacuum) carpeting
Cleaning cafeterias, staff rooms and kitchens
Cleaning air-conditioning vents
Car park cleaning
External fascia cleaning
Litter picking
Spot cleaning (typically spills - tea for example)
Watering plants (pruning as well)
Whilst the majority of our office cleaning takes place out of hours, either in the morning or evening, we will tailor our services to your individual requirements, frequency and circumstance.
When you're next searching for a reliable, client orientated office cleaning company, get in touch with The Cleaning Services Group - we'd love to hear from you. For a free site survey and quote contact us by:
Telephone 0370 977 0037